On May 10 four members of Northeast Kiwanis were recognized for their service to the club and community with Centennial Awards. Those receiving recognition were:
Bill Snellgrove for his work with the Northwest Kiwanis License Agency, where he oversaw changes in management and improvements to the facility.
Pat Mattes for the invaluable assistance his experience brought in making personnel changes at the Northwest Kiwanis License Agency.
Jim Bauer for bringing his experience as a school advisor to lead the Scholarship Committee.
John Leutz for organizing and leading the Soccer Program, our premier service project.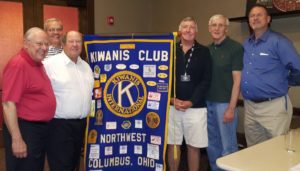 Club members recognized for their service to the Club and our community. From left to right: Bill Snellgrove, President Tim Arnold, John Leutz, Pat Mattes, Jim Bauer and Eliminate Project Coordinator Craig Smith
The Centennial Award was created by Kiwanis International for its 100th anniversary to celebrate the organization's rich history of world-changing service. The award was only available if the gift was made during Kiwanis Centennial year. Each of our recipients received a lapel pin along with a medallion and certificate framed together.
These awards were made possible by anonymous gifts to the Eliminate Project, Kiwanis partnership with UNICEF to eliminate maternal and neonatal tetanus—a deadly disease that steals the lives of thousands of innocent babies and a significant number of women each year. The proceeds from each Centennial Award will help save or protect more than 800 women and babies from maternal and neonatal tetanus.