At our July 24 Division 10W Council meeting two Amtrykes were presented to individuals with special needs. Both Amtrykes were made possible by contributions from the Clubs and members the make up our Division.
Nine-year-old Ansel Hashi's right leg was amputated at birth, forcing her to wear a prosthetic leg. Sgt. Warren Mounts, Jr., was injured while serving in Afghanistan in 2010.
Amtrykes are therapeutic tricycles, for children and adults with special needs, including disabled Veterans. The Amtryke Project, this year's Ohio Kiwanis First Family Project,  has provided the opportunity to work with other members of our Kiwanis Family, including our Aktion Clubs, as well as develop a new partnership with another non-profit.
Northwest Kiwanis specified our funds be used to benefit a veteran with special needs; these funds were used by the Division for Sgt. Mounts' Amtryke.
WCMH-TV aired a video segment about the presentation during its 11:00 PM newscast; the video can be found online at: http://nbc4i.com/2016/07/24/custom-tricycle-donations-benefit-young-girl-retired-army-seargant/.
Ansel Hashi takes her new Amtryke for a ride around the Amelita Mirolo Barn.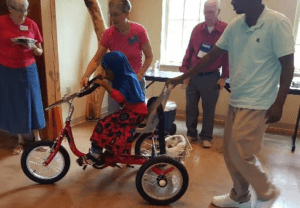 Sgt. Warren Mounts, Jr., with his new Amtryke.