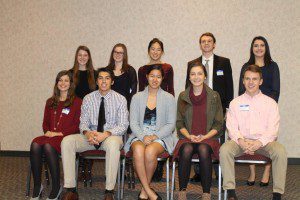 The Northwest Kiwanis Club provided 11 scholarships to Tri-Village-area students for excellence in the classroom and contributions to their communities and high schools. For more than 50 years, the club has sought to honor the hard work of high school seniors living in Grandview Heights, Marble Cliff, Upper Arlington, and assist them in their pursuits of higher education. Since that time, the club estimates it has given over $500,000 in financial assistance, and it continued the tradition March 1 at its Margaret and Jake Will Scholarship Banquet to honor this year's winners at St. Agatha's Church.
"We had many outstanding students applying for the Kiwanis scholarships this year," said Jim Bauer, who chairs the Northwest Kiwanis Club's scholarship program. "Approximately 60 percent of all the students that applied had a grade-point average of 4.0 or better, along with a very high SAT/ACT scores. "Every applicant had a wonderful resume of community involvement, volunteering and giving back to the community," he said. "Everyone on the scholarship committee felt all of the applicants were great and the idea of giving back to the communities and helping others less fortunate is certainly instilled in all of the applicants."
This year, the club awarded ten scholarships valued at $2,000 each and one $2,500 Jake Will Kiwanis Scholarship, named for the late Jake Will of Upper Arlington, for his contributions to the club and Tri-Village community. One of the $2,000 scholarships is funded by Tri-Village Soccer Association and given in the name of Dr. Robert E. Davis.
2016 Scholarship winners were:
• Graham Ali (Upper Arlington HS)
• Nickolas Amore (Upper Arlington HS)
• Kelly Chian (Upper Arlington HS)
• Claire DiOrio (Bishop Watterson)
• Jackson Furbee (Grandview Hts. HS)
• Georgia Mattingly (Grandview Hts. HS)
• Elizabeth Magill (Upper Arlington HS)
• Julia Pei (Upper Arlington HS)
• Isabella Pesavento (Cols. School For Girls)
• Jack Stummer (Upper Arlington HS)
• Elvia Suli (Upper Arlington HS) Winner of Jake Will Memorial Scholarship